Today's stop is Oklahoma.
In the early 1800s the United States government was taking over Native American land at a fast pace. One of the concepts they came up with for the people they were displacing was to create 'Indian Territory' in the middle of the country. The map below shows how the area that was to become the state of Oklahoma was divided up amongst the various tribes.
In 1889 the government was going to open up the area in the middle that was 'unassigned'. The plan was to allow people to head for this land at noon on April 22, 1889, however a number of people took off early, despite a 'sooner clause' stating anyone who did would be denied land. Originally the term Sooner was derogatory, but now it is embraced by most Oklahomans.
In downtown Oklahoma City there is a large statue collection celebrating that day.
Oklahoma became a state in 1907. The current State Capitol building was completed in 1917, and has the unique feature of a working oil well on the grounds.
Unusual state symbols of the day
Official State Caricature Artist – Teresa Farrington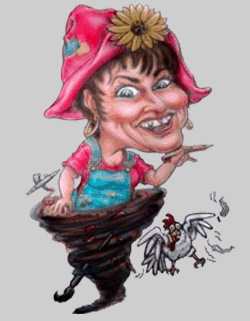 State Monument – Golden Driller – This guy is huge – 76′ tall.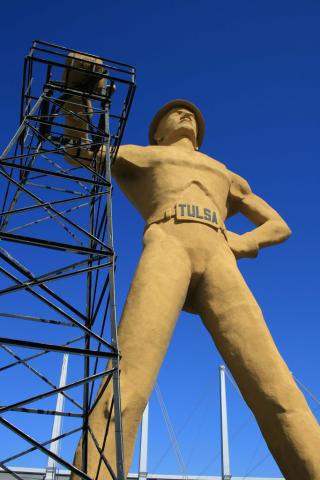 Native Americans
1958     1991     1993
The Native American culture is celebrated far and wide throughout Oklahoma. The largest celebration is the Red Earth Festival.This multi day cultural event includes a parade. (photo from Wikipedia)
Everywhere you go you see signs of the Native culture. Many are excellent tributes, but some are a bit more commercial (like the gas stations with tepees).
Nature
1975     1977     1983     1985     1986     2009     2011
Oklahoma is mostly a vast plains.
Oklahoma is known as the center of tornado alley, having suffered from numerous deadly tornadoes each year. The National Weather Center is located in Norman, and has a collection of weather collecting devices on display.
There are a few areas that aren't flat plains, like Gloss Mountain.
There are also hills in Southeastern Oklahoma. (photo from Pintrest)
As you travel around the state you come across a number of random sights.
Transportation
1980     1995     1996     2008    2011
Wait, was it left on 28 or right on 82….
Oil is big business in Oklahoma, once home of Phillips Petroleum.
Darryl Starbirds' National Rod and Custom Hall of Fame is located in far eastern Oklahoma. Well worth going out of your way to get there.
Grand River Dam.
Cities and Towns
1999    2001    2003     2005     2007     2015
Oklahoma City is the state capitol, and largest city (not by much – Tulsa is nearly as large). It is a nice city, with a decent downtown, and a hipster neighborhood called Bricktown.
Tulsa – As noted, Tulsa is nearly as large as OKC. It has long been a center of the oil industry.
Tulsa has always been a center of the music scene, with the 'Tulsa Sound'. Eric Clapton is such a fan, most of his band is usually made up of Tulsans.
Bartlesville was the headquarters of Phillips Petroleum. It is home to a landmark Frank Lloyd Wright skyscraper.
Oklahoma seems to be a center for statues.
Just south of Oklahoma City is the Museum of Osteology.  Oklahoma was surprisingly interesting, well worth a visit.