In previously postings I have shown examples of the tremendous population growth many of the states have experienced over the last 50-60 years. Iowa is the opposite of that. In the mid 1950s there were 2.7 million people in the state, up only 500,000 from 1900. In the next 70 years the population has only grown another 500,000 people.
It is the heart of the cornbelt, as exhibited in this graphically impressive 1954 map.
This scene could be from 1900, 1955 or 2020.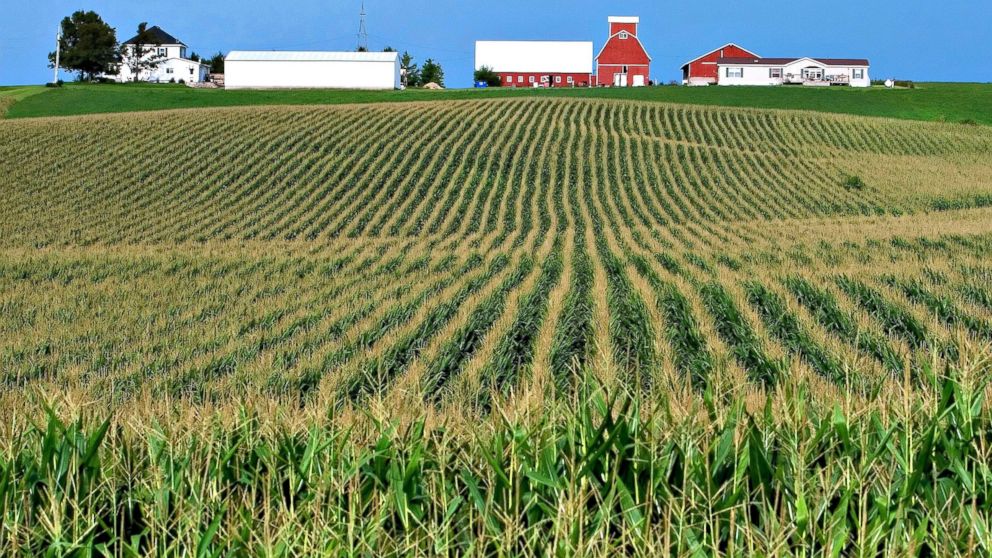 1957 – The graphics are still impressive with this view of factory and a highway.
Des Moines 1957
2020 streetview of the same intersection. Despite minimal population growth the city has changed dramatically.
1970 – Herbert Hoover Presidential Library. It was built and dedicated in 1962, not long before Hoover died in 1964.
1974 – Herbert Hoover's 100th birthday.
Herbert Hoover is the only U.S. President that was born in Iowa. Hoover however is often ranked among the worst presidents in history, although everyone is up one now.
Hoover was born in the town of West Branch, Iowa in this small house.  (photo from Wikipedia)
1971 – A collage of scenes around the state. The scene in the lower left is the Pella Tulip Festival.
The Pella Tulip Festival has taken place every year since 1935. Today the town plants 200,000 tulips in celebration.
1972 – Seasons in Iowa.
1973 – Joliet and Marquette. The early explorers in Iowa (and elsewhere).
1975 – State Symbols
1976,  1979 & 1983 – Generic (read – boring) covers
1986 – Another collage including riverboats.
The eastern border of Iowa is the Mississippi River. There are a number of towns and cities along the river that have transitioned from commerce to tourism.
There are also riverboat casinos in Dubuque, Bettendorf and Clinton. (Photo from Travel Iowa).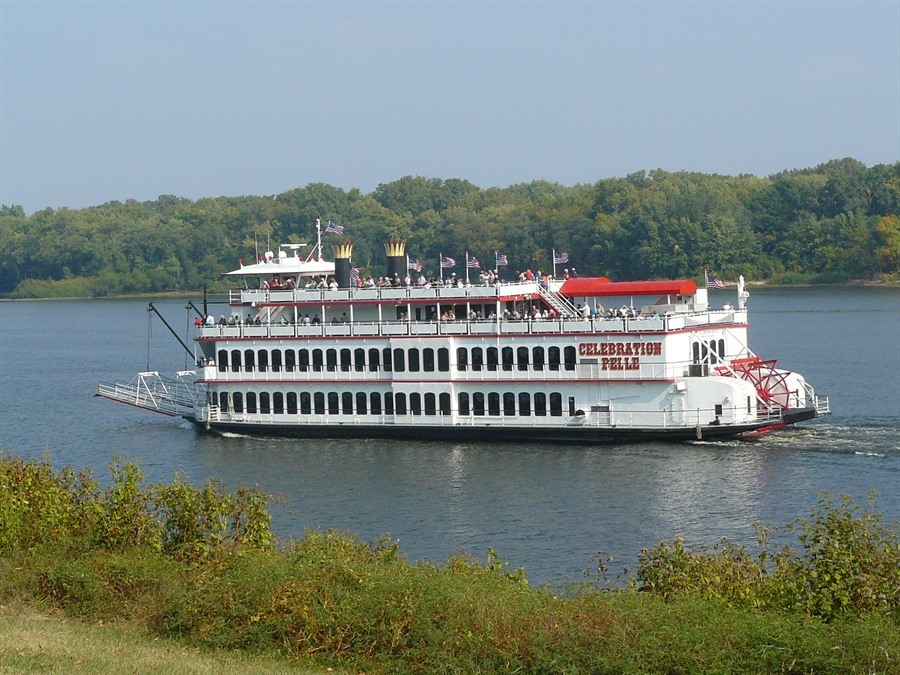 1988 – Another collage but in the form of a quilt.
Des Moines each year holds 'Quilt Week'. (Photo from Pintrest)
1991 – The collages continue.
Among the photos this year is the Iowa State Capitol. Built between 1871 and 1886, the building is the only 5 domed capitol in America. (Photo from All American Scaffolding website)
1994 – Snake Alley in Burlington.
Iowa is well known for being mostly flat landscape. Along the Mississippi River however there are some bluffs, including the one in Burlington.
In 1894 they built a street up this bluff with multiple curves, giving it the name of 'Snake Alley' It rises 58′ (17.8m) in a distance of 275 feet for a 21% grade.
For perspective here is Canton Avenue in Pittsburgh, claimed to be one of the steepest streets in the world – rising at 37%. To Pittsburghers 21% is considered a level yard.
1995 – Pikes Peak State Park. What, I thought Pikes Peak was in Colorado?
While it does have a panoramic view, I think they are over advertising using that name.
1996 & 1998 – The collage returns, this time with a butterfly each time.
In 2015 there was a push for the Regal Fritillary (this butterfly) to become the official state butterfly, but nothing came of it. These maps pre-date that effort by nearly 10 years!
1999 – 100th Anniversary of the first man carrying glider in Iowa
As the map states in 1898 14 year old Carl Gates flew in this glider, pulled along by a horse. He later went on to attend the Armour Institute of Technology in Chicago, later building small airplanes.
The reverse side of the map has a tribute to transportation in Iowa over the years. From canoes to steamships to trains, Iowa has seen it all pass by.
The Lincoln Highway was one of the first transcontinental roads, passing through Iowa on it's way from New York to San Francisco. There is a very famous bridge in Iowa that celebrates this road. (Photo from Iowa Girl on the Go blog)
2001 – Collage again, including a covered bridge. Those that read this blog know I rarely offer negative commentary but once on a flight from Atlanta to LAX I attempted to watch Bridges of Madison County. This movie was set, and filmed in Iowa in 1995, and the bridge featured on this map.
To me that movie was so bad I wanted to jump out of the plane somewhere over Iowa, but to each their own.
2002 – Collage (again) with crossings.
In an attempt to find this rail trestle above I came across the High Trestle Trail. This rails to trails opened in 2011, crossing it's namesake span over the Des Moines River.
I have only been to Iowa twice, and then very briefly, but this looks worth the trip (Photo from Wikipedia)
2003 – Again the Bridges of Madison County bridge!
2004 – Collage including a Railroad Museum.
Among the railroad museums in Iowa is the Union Pacific Railroad Museum. Located in Council Bluffs, it details the history of this railroad. Located in a former library, the museum at times sponsors rides on this great train below to raise funds. (Photo Omaha newspaper)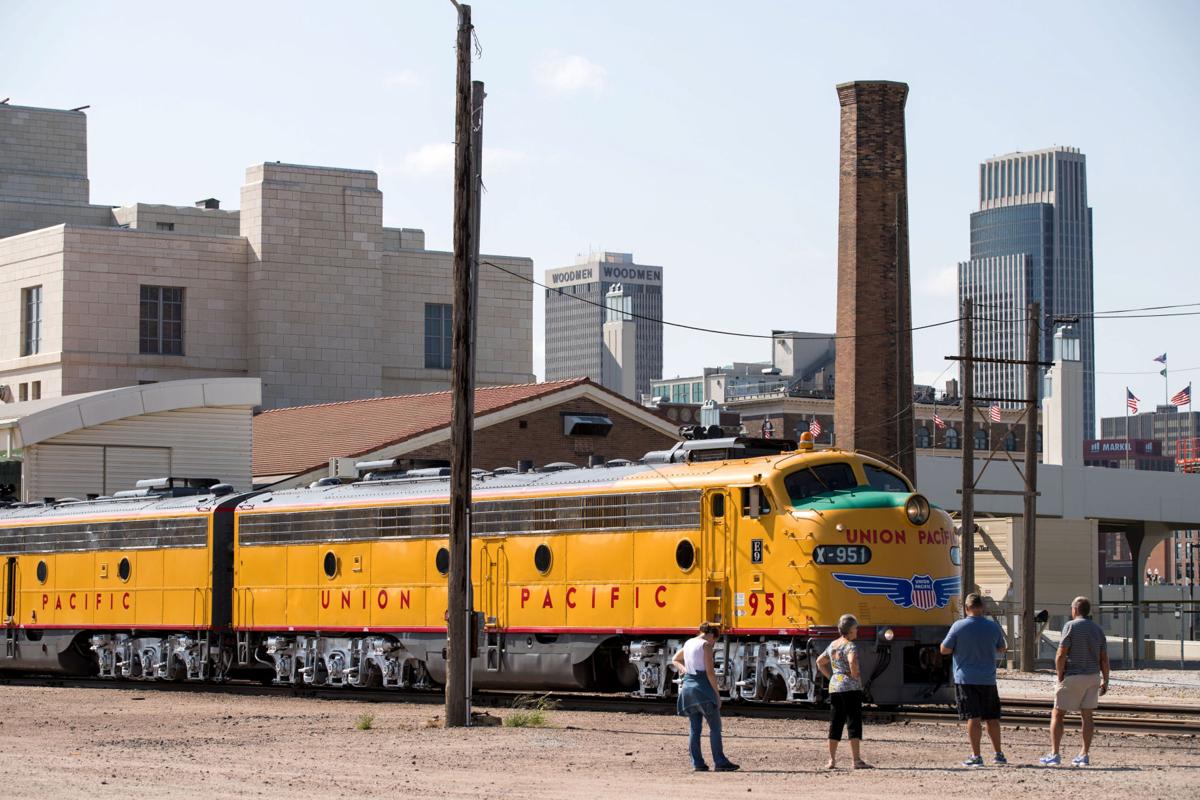 2005 – Collage including the Black Hawk Bridge spanning the Mississippi between Iowa and Wisconsin.
An unusual cantilever through truss design, it was completed in 1931. There are plans to replace this bridge in the next 10 years or so. Personally I love these old bridges with their Erector Set gone wild look.
2008 – Collage including downhill skiing in Iowa.
The Mount Crescent Ski Resort in Honey Lake, Iowa has a vertical drop of 250′! (Photo from Onthesnow.com)
2009 – Collage including 'Barn Quilts'. These decorations grace barns throughout the state.
Sac County has enough of these Barn Quilts they have a tour. The tour can be found at
Barnquilts.com – where this photo came from.
2010 – The Bob Kerrey Pedestrian Bridge is a 3000′ long walkway across the Missouri River between downtown Omaha, Nebraska and Council Bluffs, Iowa.
2011& 2013 – Additional visits to the Capitol.
2012 – Small Town Iowa.
2014 – Great River Bridge at Burlington. As with many modern bridges this is cable stayed, however uniquely it is uneven – there are 13 pairs on one side and 14 on the other side.
2015 – One last collage including hot air balloons.
Each year the National Balloon Classic comes to Des Moines. For 9 days over 100 hot air balloons fill the skies over the city and surrounding countryside. (Photo from Radioiowa.com)