As with Ohio I have spent considerable time in Pennsylvania, with Pittsburgh feeling like a 'hometown' (Go Pens/Pirates/Steelers!)
History & State Capitol
1938     1955     1956     1986     2013
As with most states, the state capital is located (somewhat) in the middle of the state. Given that the vast majority of the people of Pennsylvania live on the ends, this meant a smaller city has been the capital – Harrisburg.
While outside the Pennsylvania Capitol looks like many others, inside is amazing!
Unusual State Symbols
Official State Aircraft – Piper J-3 Cub. For decades Piper Cubs were built in Lock Haven, PA.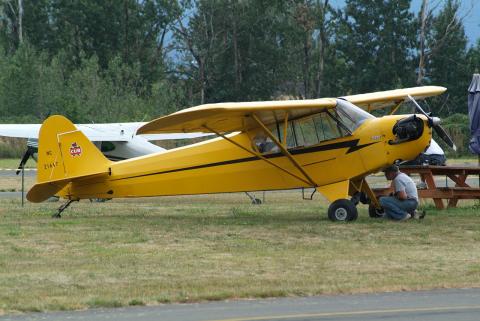 State Colors – Blue and Gold Featured on the flag and every license plate ever.
But in Pittsburgh the colors are Black & Gold! All the sports teams follow this color scheme. Pennsylvania has a long industrial history, much of which has been lost. The city of Bethlehem has a vacant steel mill that is now a National Park site that serves as a reminder of this legacy.
Roads
1952     1960     1964     1973     1974
It is impossible to find a city with more cool bridges and tunnels than Pittsburgh. While it makes the commutes tough, it is a great visual experience driving around the city
The Pennsylvania Railroad was the largest, and most famous railroad in the country in the late 1800s and early 1900s. This history is celebrated at two major rail museums, Steamtown in Scranton, and the Railroad Museum of Pennsylvania.
Not to be outdone the Pennsylvania Trolley Museum in Washington, PA has a great collection of streetcars and interurbans.
1976 – Philadelphia
There is another large city in Pennsylvania other than Pittsburgh 🙂
Philadelphia of course is the seat of the independence movement in the 1700s. That history is on evidence everywhere in the city. Trivia moment of the day – there are only 2 cities that have been in the top 10 in population for every official United States Census – New York and Philadelphia.
Near Philadelphia is one of the world's best gardens – Longwood.
1989 – Seasons
Most of Pennsylvania is beautiful rolling hills and mountains. Much of this area is filled with small towns and wooded countryside.
Frank Lloyd Wright's most famous structure is located in these hills – Fallingwater. Nearby is a second FLW house – Kentuck Knob. Both are stunning.
U.S. Route 6 traverses Northern Pennsylvania, and passes a number of interesting venues including Kinzua Bridge. When completed in 1882 it was the tallest bridge in the world, towering 300′ above the valley. It was decommissioned in the early 1960s and sold to the state with the purpose of becoming a park.
In 2003 a tornado struck the bridge and destroyed a large portion of it, but the remainder makes for a great walk.
As you make your way along U.S. 6 you pass the Pennsylvania Lumber Museum in Galeton, the Coudersport Ice Cave, and the Zippo Lighter Museum in Bradford.
1995 – Hunseckers Mill Bridge – Lancaster County
It is thought that Pennsylvania has more named places than any other states as each hill and valley seems to be another named small town. Some are more famous than others such as Punxsutawney – home of Phil! Each February 2nd this little town is overrun by 40,000 people coming to see a groundhog pulled out of it's fake home to see it's shadow.
It is celebrated with another collection of fiberglass statues.
The town of Ridgway has an annual Chainsaw Carving contest that draws artists from all over the world.
The C.F. Martin & Company has built outstanding guitars since 1833. Their factory is open for tours, and they welcome photography throughout! We have been of many tours of facilities over the years and this was one of the best.
2007 – Pittsburgh
As noted in the opening, while I was not born or raised there I grew up close enough, and have spent most of my adult life spending time there, that it feels like home.
Built on steep hills along the 3 rivers (Ohio, Allegheny, and Mon), it has character. With the long history of steel, the city had enough wealthy people in the early 1900s that there is a great collection of historic skyscrapers. With the lack of build able land, the skyscraper construction has continued to this day.
The interiors and trim are just as impressive.
Pittsburgh has it's fair share of quirky places, including Randyland and Bicycle Heaven. The best, by far, is Anthrocon – 7000 people descending on the city dressed in furry animal costumes.